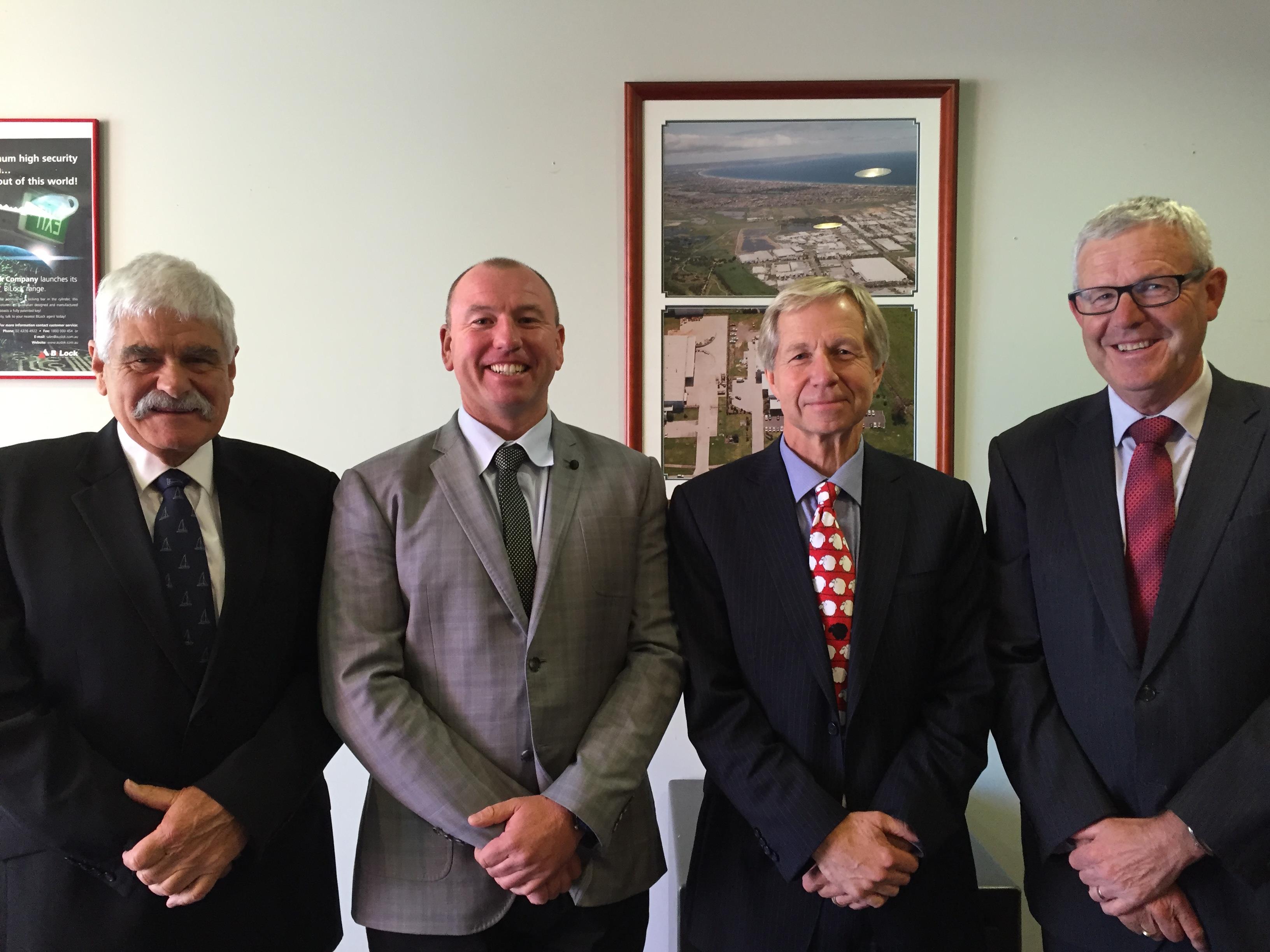 Company History 1884 – 2016
Safecorp Group Ltd commenced operations in September 1884, trading as Victoria Safe Company Pty Ltd. The original Office and Factory were situated in South Melbourne until 1929, when it was moved to Brunswick. Competition was fierce during the 1930's and continued through to the 1950's with Milner, Ajax, Dyke, Chubb and Pioneer all maintaining a significant presence in Victoria.In the 1960's Victoria Safe Company outgrew the opposition to become Victoria's largest safe manufacturer with sales in volume second only to Chubb
In 1968, the Company was acquired by Wormald Security and John Tann (U.K.) who at the time, were Britain's second largest safe manufacturer. The new owners traded as Wormald – John Tann (Aust.) Pty Ltd. Four years later in 1972, Wormald acquired the John Tann interest and began trading as Wormald Safe and Vault Company. The Kumahira agency was also acquired at this time, expanding the Company's product range with fire resistant products from Japan.
In 1972, the Company enjoyed substantial growth, winning several Government contracts and improving its technology to the extent where it became an approved supplier to all Banking and Financial sectors.
During July 1985, negotiations commenced with Wormald, which eventually resulted in a Management Buyout. The new company, Australia Safe Company Pty Ltd, commenced trading on 3rd March 1986. With a new sense of direction, the Company immediately began to achieve profitable results, new products were developed and the Company became one of the two preferred suppliers to the Banking sector.
Seeking to enter the export market in 1988, the Company entered into a joint venture project in Singapore, Australia Safe Company (S.E.A.) Pty Ltd, with local partners. At the same time, a Malaysian manufacturer was licensed to produce a range of "Australia Safe" brand products throughout South East Asia via the Singapore company.
May 1989 saw the Company expand further, with two more acquisitions. The first from Wormald, being Albury Door Centre, a manufacturer of Prison Cell Doors and Fire Doors. The second from the inventor of Bi-Lock Brian Preddey who had commenced Australian Lock Company Pty Ltd the manufacturer of "Bi-lock" High Security Locks. Due to the acquisition of diversified companies, it was decided to change the name of the Company to Safecorp Group Pty Ltd in July 1989.
Australian Lock Company Pty Ltd has continued to grow at a compounded level of 20% per annum. Current manufacturer capacity is now 1,500,000 lock cylinders per year. To achieve the significant growth in the market, approximately AUD $10.0 million has been spent on high technology KNC plant and equipment.
In 1991 , Safecorp Group established a new division in the Materials Handling Industry. The new division, Safecorp Equipment was appointed Australian Distributor of Atlas Trucks Mounted Cranes (Germany) in April 1992, winning several major Government Tenders in its first year of operation. It added the Fassi (Italy) Distributorship to its product line in addition to manufacturing its own range of small truck mounted cranes.
Bi-Lock Pty Ltd was established in 1993 to concentrate on the export activities of Bi-Lock. Since then, shipments have been made to Korea, Singapore, Malaysia, United Kingdom, Europe, Thailand, Indonesia, Hong Kong, China, Saudi Arabia and United States of America. This Division continues to concentrate on the establishment of major distributors of Bi-Lock throughout the wold, whilst retaining the base of manufacturing in Australia.
In 1993, Safecorp Group entered into a joint venture manufacturing and marketing agreement with Lord Safe Company, which led to the eventual sale of the safe business to Lord. Safecorp retained all export sales of safes and vaults as part of the sale, with Lord being granted a license to manufacture the "Australia Safe" brand. The Administration and Export Sales office were moved to new Corporate Offices located in Kew.
August 1994, Safecorp Group acquired the business of Burtons Locksmiths from Chubb. Burton Locksmiths is based in Albury, New South Wales. It is predominately a retail outlet, but provides supplementary locksmithing service to Albury Door Centre.
Also in August 1994, Australian Lock Company Pty Ltd was awarded the prestigious Annual Achievement Award for excellence in services to the locksmithing industry.
In September 1994, Safecorp Group established a new division in the field of Perimeter Security. The new division, Perimeter Security Products Pty Ltd markets a range of car park barriers and perimeter security equipment throughout South East Asia.
In November 1995, the Safecorp Equipment division was sold following the loss of the Fassi crane distributorship. At the same time Safecorp Group acquired a majority shareholding in Princes Laundry Services Pty Ltd from Brambles Ltd.
In April 1996, the Administration and Export Sales offices were moved into new Corporate Head Offices above the Princes Laundry building in Box Hill in Victoria.
In January 1997, Safecorp Group acquired the balance of the shares in Princes Laundry Services Pty Ltd to take it to 100% ownership.
In March 1997, Albury Door Centre was closed and Burtons Locksmiths was listed for sale as part of a rationalisation program refocusing our efforts on core business. At the same time, Perimeter Security Products was incorporated within the Safecorp Group export division.
In June 1997, Safecorp Group acquired a 50% shareholding in Royal Linen Pty Ltd. This company imports linen products and manufactures sheets, pillowcases and a wide range of products for commercial and healthcare customers throughout Australia and New Zealand. Safecorp bought out the other shareholder in 2002 and renamed the business Imperial Linen Pty Ltd.
In November 1997, Safecorp Group acquired Sky Fabricare Services Pty Ltd on the Gold Coast in Queensland. The name was changed to Princes Fabricare Services Pty Ltd and is now the largest commercial laundry on the Gold Coast.
June 1998, witnessed Safecorp Group move into the Healthcare sector with the purchase and placement of shares in United Healthcare Australia Pty Ltd. The Group purchased 50% of U.H.A., which is a diversified healthcare provider in the medical/hospital market.
In October 1998 Princes Laundry Services relocated from Warrigal Road Mentone after 75 years to a purpose built green laundry site at Park Way Braeside which remains as the Head Office for Safecorp.
In December 1998 Safecorp Group acquired Coastal Laundries Services in Maroochydore, Queensland. Coastal Laundries has now changed its name to Princes Fabricare Services Pty Ltd and is the largest commercial laundry on the Sunshine Coast.
In September 2000 Safecorp Group sold its interest in United Healthcare Australia to Foundation Healthcare Ltd (a publicly listed company) for a cash and share consideration of $10.5 million.
In December 2001 , the Group purchased land and buildings in Wollongong for the relocation of its lock manufacturing business. A total investment of $3 million plus was expended on the site.
In 2007 Safecorp acquired the combined businesses of Melbourne Linen, Sheldon's Linen, Del Brocco's Linen and Prahran Linen and changed its name to Princes Linen Services Pty Ltd based in Altona Melbourne
December 2014, Jim Pickett retires after 28 years as Chairman of the Company. Jeff Peterson appointed Executive Chairman.
July 2016, Purchased Land & Buildings in Gepps Cross South Australia. Built purpose designed new laundry to cater for the growing Healthcare and Accommodation market of Adelaide and Regional Areas.
December 2016, Safecorp acquired the business assets of Lock Focus from GUD Holdings Limited. The business operates from Keysborough Victoria and employs 53 personnel.
Safecorp Group is Australian owned and operated, employing over 750 personnel in a diversity of industries. The company has enjoyed over 30 years of steady profit growth and now ranks in the top 500 Private Companies in Australia.